Divine Appointments in Europe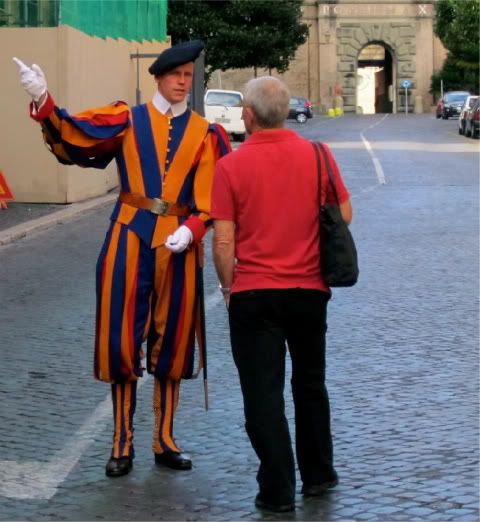 Our ministry in Europe was a huge success with many divine appointments and open doors of opportunity to share the glorious Gospel of grace. On our first day at the Vatican, I approached the Pope's residence to see if we could meet with him to talk about the Gospel and his strategy for ecumenical unity. The Swiss guard told me I could see him at noon (along with the other 500,000 people waiting to see him in St. Peter's square).
It occurred to me that I have immediate access to God through one mediator but had no access to the pope because of one obstruction.
Later, when the pope appeared at his window to "bless" the crowd, we were astonished to witness the misplaced and excessive exaltation of this man. Our hearts were filled with compassion for the many nuns whose eyes were transfixed on him as if he were a god.
As usual Gendron proceeds to lie and deceive his readers. Notice that like some politicians have done he declares victory without having actually achieved it.
He can't tell us that he didn't know that personal meetings with His Holiness are scheduled far in advance. This is just another of his outright lies that he propagates as an attack on the Catholic faith. Is this the kind of Christian integrity that he should display? I think not.
During our tour of St. Peter's Basilica and the Vatican Museum, we were taken back by the immense idolatry and paganism that is thinly veiled by a counterfeit form of Christianity.
Notice that he doesn't bother to detail this, probably because he knows full well that any Catholic whose remotely knowledgeable about our most holy faith would make him look like even more of a liar than he already does. For those of you who might not have seen it, I answer this sort of specious propaganda in an article on my blog called. Iconoclasm: Or: Catholics Worship Graven Images NOT
Clearly Satan has blinded the minds of unbelievers from the light of the Gospel and the glory of Christ.
Any of you feel blinded? Any of you unbelievers? Odd...all the faithful Catholics I know are not only very strong believers and followers of Our Lord Jesus Christ, but can explain and defend what we believe and why.
We left with a greater sense of thanksgiving to God for delivering us from this kingdom of darkness into the glorious light of the Savior.
Hmmm, I seem to express that same feeling about coming home to the Catholic faith in My Testimony.
Many of the Catholics we witnessed to showed no interest in the Word of God because of their fierce and unbending loyalty to their religion. We were, however, encouraged by some who had a teachable spirit and expressed an interest in the truth we shared from Scripture.
Sure Mike, and just how much Italian do you even speak? More likely, he couldn't make himself understood and they were bored with this rude American anti-Catholic. Truth from scripture? Really? If it's so true then how come I've been able to refute so many of your newsletter articles with abundant scriptures and well documented Catholic teaching?
Response to Hard Questions to Ask Good Catholics (By Mike Gendron)
Refuting anti-Catholic tract: "Rome vs The Bible" by Mike Gendron
Refuting: "Is a Catholic Christian an Oxymoron?"
Refuting Mike Gendron's attacks on Eucharistic Adoration
We continued to sow the imperishable seed of God's Word in Naples. It was somewhat of a homecoming for me since I lived there 52 years ago while in middle school. At that time, as a devout Catholic and altar boy, I had what I thought, was a great privilege to meet Padre Pio. He was the stigmatist who bore the 5 wounds of a crucifixion and was recently named a saint. In his autobiography he said souls from purgatory would stop by his window on the way to heaven to thank him for suffering on their behalf.
As our merciful God set us free from this religious deception, we now pray that the truth of His Word will do the same for all the divine appointments He set for us.
And I will pray a Rosary and a Divine Mercy Chaplet (Please join me in this my Catholic brothers and sisters.) in thanksgiving that I am not deceived by lying men like you Mike Gendron and my intention will be the collapse of your anti-Catholic "ministry" and your final reversion by the mercy of God.